Unlocker 1.9.1 is very efficient when you want to delete a file or folder and your computer says "Cannot delete Folder: It is being used by another person or program." This little program unlocks the file or folder by killing all the processes which may be unnecessarily using the same. A simple explanation of how to use this software is shown below:
Ever had such an annoying message given by Windows?

It has many other flavors:
Cannot delete file: Access is denied
There has been a sharing violation.
The source or destination file may be in use.
The file is in use by another program or user.
Make sure the disk is not full or write-protected and that the file is not currently in use.
Unlocker is the solution!
1. Simply right click the folder or file and select Unlocker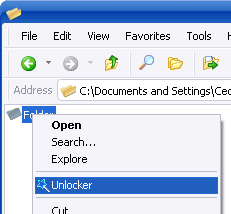 2. If the folder or file is locked, a window listing of lockers will appear

3. Simply click Unlock All and you are done!